Welcome to Total Sports Football Academy!
Welcome to the Total Sports Football Academy (TSFA); the best and newest football academy for youth football development in York. Our academy offers football sessions for boys aged 5-12 every weeknight at Playfootball York, with a focus on developing skills, staying active and having fun!
TSFA is entering its 2nd full season, offering training sessions for grassroots players around York, with the aim of increasing their playing time in a competitive, engaging and safe environment. 
Our overall aim of the academy is to develop Elite Football talent in York over the next ten years. Our coaches and staff work with children every day in schools as we teach PE and Sport to many children throughout the city every week, and therefore have a lot of experience in getting the very best out of young talented footballers. 
Our Player Pathway entails 3 competitive stages: 
1.Talent Centres (Friday Nights) – Open to players of all abilities with the focus of developing technique with small sided games. This is great for both new starters and for those who want to improve their skills to take back to their junior clubs. Players who impress in these sessions will be handed invitations to join our Elite & Gifted Squad.
2. Elite & Gifted Squad: Working with York & District School boys to bring the best young players the city have to offer together to train and to play matches. We value variety in opposition and play a wide range of teams, including grassroots teams, school teams, development centre teams and professional academies such as Leeds United, Middlesborough and Hull City. 
3. Potential Pro Academy trial: Our Elite & Gifted squad is regularly monitored by pro academies. In our first full year, we had 8 young players join academies of Leeds United and Hull City, while 5 were selected to represent York School Boys. For us, this is an important element – giving opportunities for young players at TSFA Elite level or going beyond this if appropriate
All our football coaches are FA qualified, first aid trained and DBS checked! 
TSFA  is based at Play Football York, which offers fantastic 4G pitches allowing the academy to run efficiently throughout the winter period.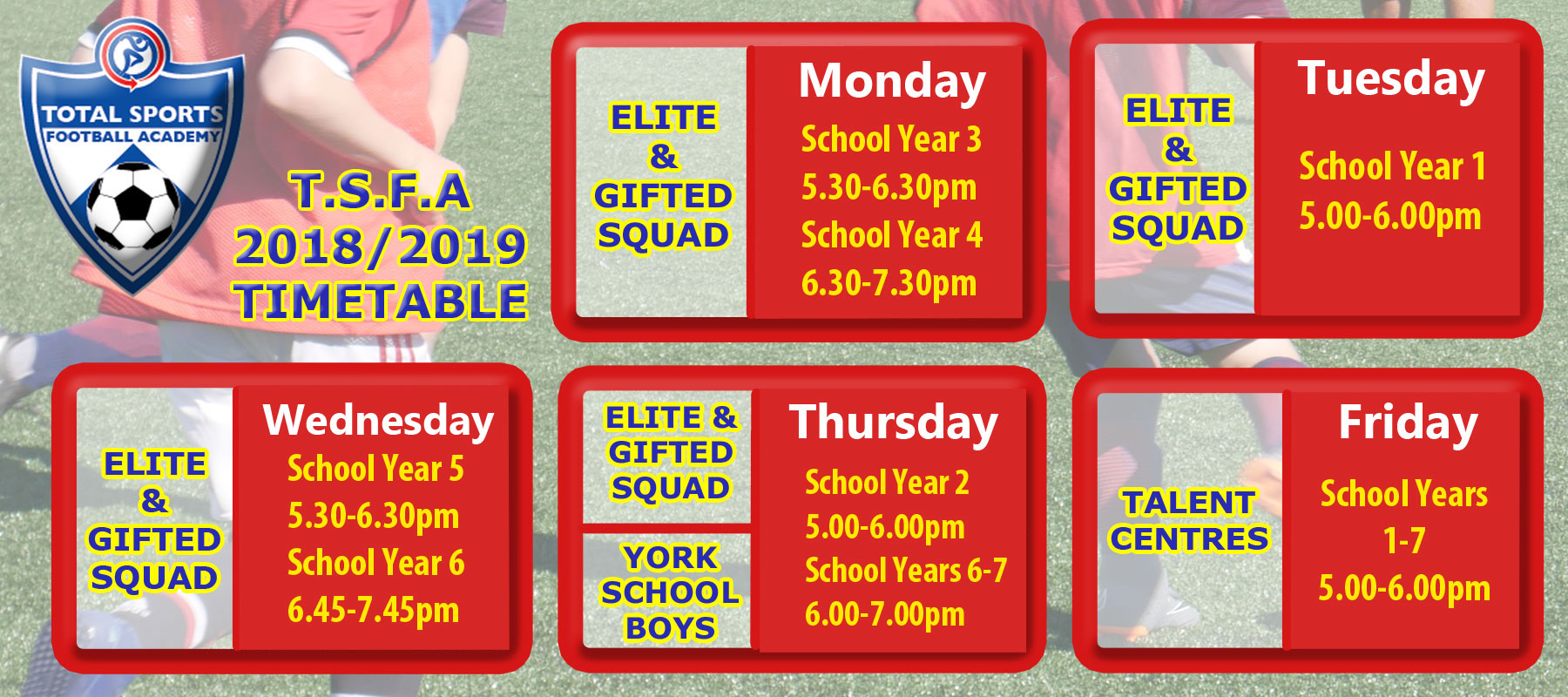 dsfsfk;nsfvbjFVBOLBSNOFVboDNSC'SLOcnd b'sVBCOJ'DNCOSCOSNcobsd'VBO[
Questions? Get in touch today