Welcome to Total Sports Football Academy!
Welcome to the Total Sports Football Academy (TSFA);  Our academy offers football sessions for boys and girls aged 5-12 every weeknight at Playfootball York, with a focus on developing skills, staying active and having fun!
TSFA offers training sessions for grassroots players around York, with the aim of increasing their playing time in a competitive, engaging and safe environment. 
Our overall aim of the academy is to develop Elite Football talent in York over the next ten years. Our coaches and staff work with children every day in schools as we teach PE and Sport to many children throughout the city every week, and therefore have a lot of experience in getting the very best out of young talented footballers. 

FIRST KICKS FOOTBALL – Football for beginners, learning the basics of the game. Designed for children to have their first taste of football with the main emphasis on having lots of fun with friends.
ELITE & GIFTED – These sessions are for the best primary school talent across York, designed to further enhance your child's ability with the support of UEFA and FA qualified coaches. Children will have opportunities to showcase their skills in matches against local clubs!
FRIDAY NIGHT FOOTY – Simply games games games. Children who simply want to enjoy games of football after a week at school, mini World Cup, Champions League and Premier League Tournaments; prizes for the winners!
We hope this helps. Get your children involved. Get them doing something structured. Team sports are great for character building
All our football coaches are FA qualified, first aid trained and DBS checked! 
TSFA  is based at Play Football York, which offers fantastic 4G pitches allowing the academy to run efficiently throughout the winter period.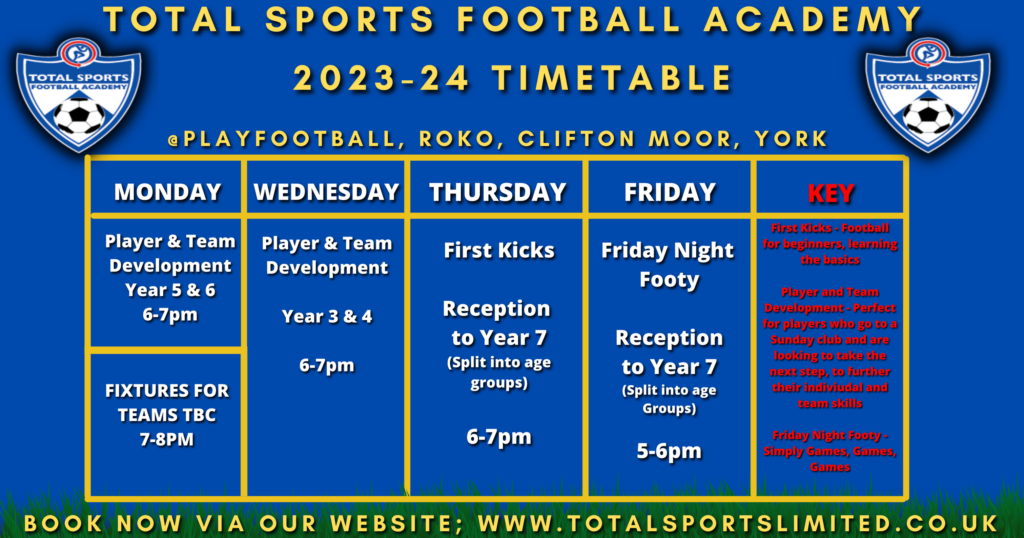 dsfsfk;nsfvbjFVBOLBSNOFVboDNSC'SLOcnd b'sVBCOJ'DNCOSCOSNcobsd'VBO[