Total Sports Football Academy Timetable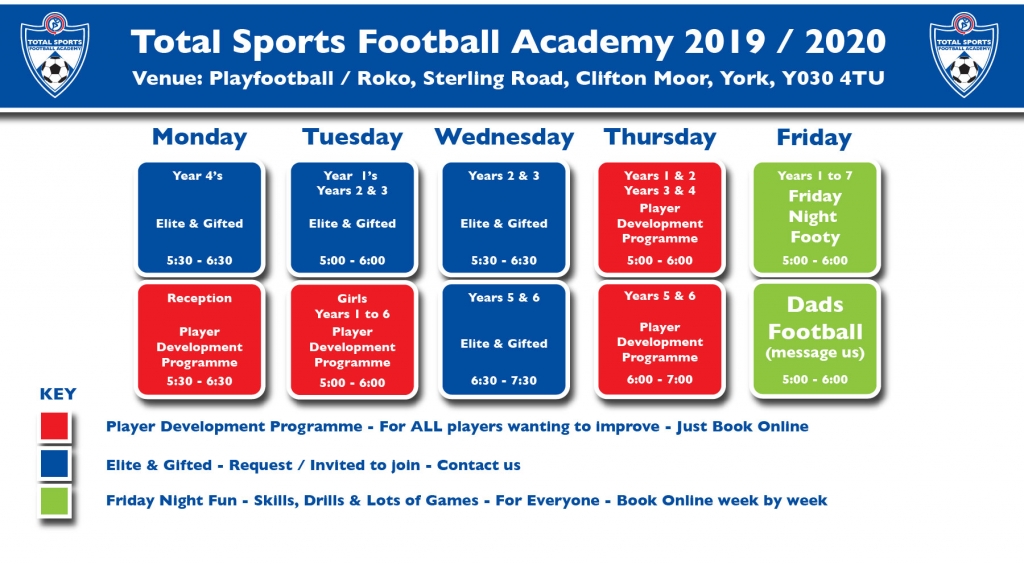 If you want to join any of our football courses, just book online.  You are welcome to join any football course you wish.
The Elite & Gifted Squads do require an invite but do contact us if you feel this is the right course for you.
PLAYER DEVELOPMENT PROGRAMME – is about improving and lots of touches.  It is for all players that maybe are not at a club yet, or feel they need to develop further at their club.  If you feel a club is your next step – then this is the club for you.  There is also a Girls only club too.
ELITE & GIFTED – These are our squads.  Where the aim is to be playing with players that want to take their football to the next level.  It is aimed at pushing those who have played a lot and stand out a little more at this stage.  It is aimed at improving your game for your club and we have links with York School Boys, Hull City and Various other professional Clubs where we can send players for trials.
FRIDAY NIGHT FOOTY – This is 5:00-6:00pm every Friday.  A feel good fun Friday.  Very popular.  It is a chance to do some fun drill but we have a really great time playing matches for a big part of the session.  This suits all players.  You can book this week by week.
DAD'S FRIDAY FOOTBALL – 5:00pm – 6:00pm every Friday.  How does it work ? email us.  Ask to join our Wattsapp group.  We message one another and if there's enough available that week then we play, if not, we leave it for a week – so there is no pressure.  It's slow… but fun!  £6 per session.
We hope this helps.  Get your children involved.  Get them doing something structured.  Team sports are great for character building 🙂