Total Energy is for children who love to be involved in varied, fun, non-stop activities. We've designed these programmes for 15 years and they include all of your child's favourites.
Activities range from high energy field sports and games, to arts and crafts. Our touring WOW equipment also features on our Easter and Summer camps, offering additional sessions on inflatables, archery, nerf, pottery making and more.
Kids Choice features every day on camp, offering flexibility and a chance for children to shape their week.
This page covers all information that you need to know about our Total Energy programmes. If you have any further questions, please contact via enquiries@totalsportlimited.co.uk or call 03444 14 13 13.
A STANDARD DAY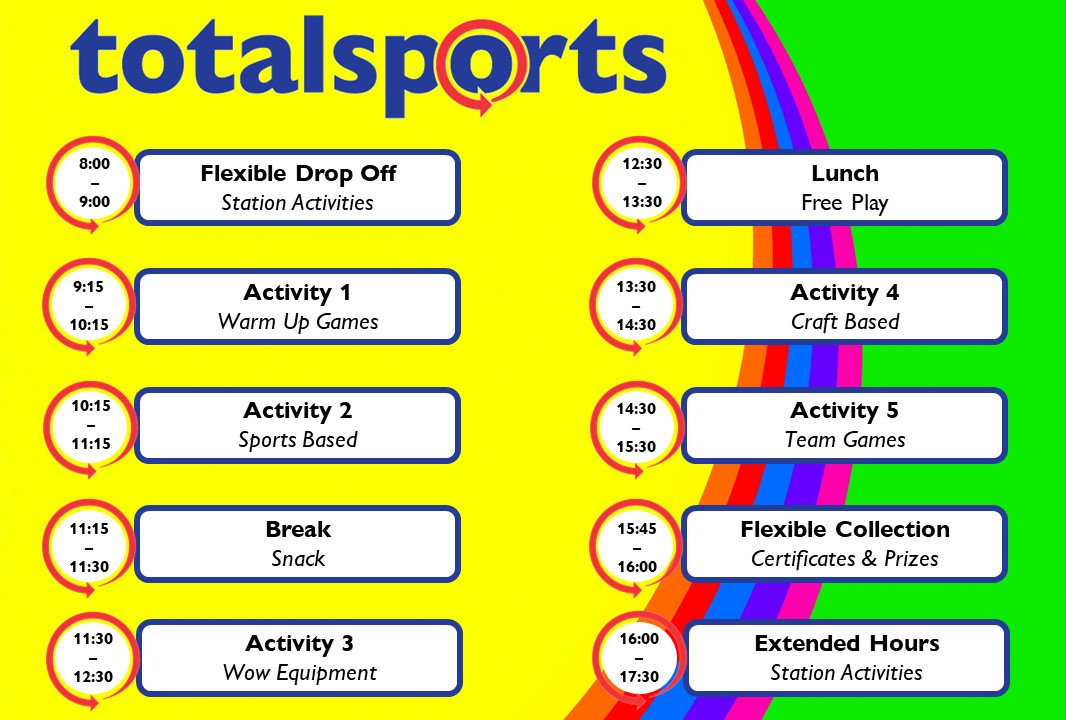 All of our venues follow the same timings, so that your children can get
used to our routines. Activities are subject to change, but will always
include a variety of themes.
WHAT TO BRING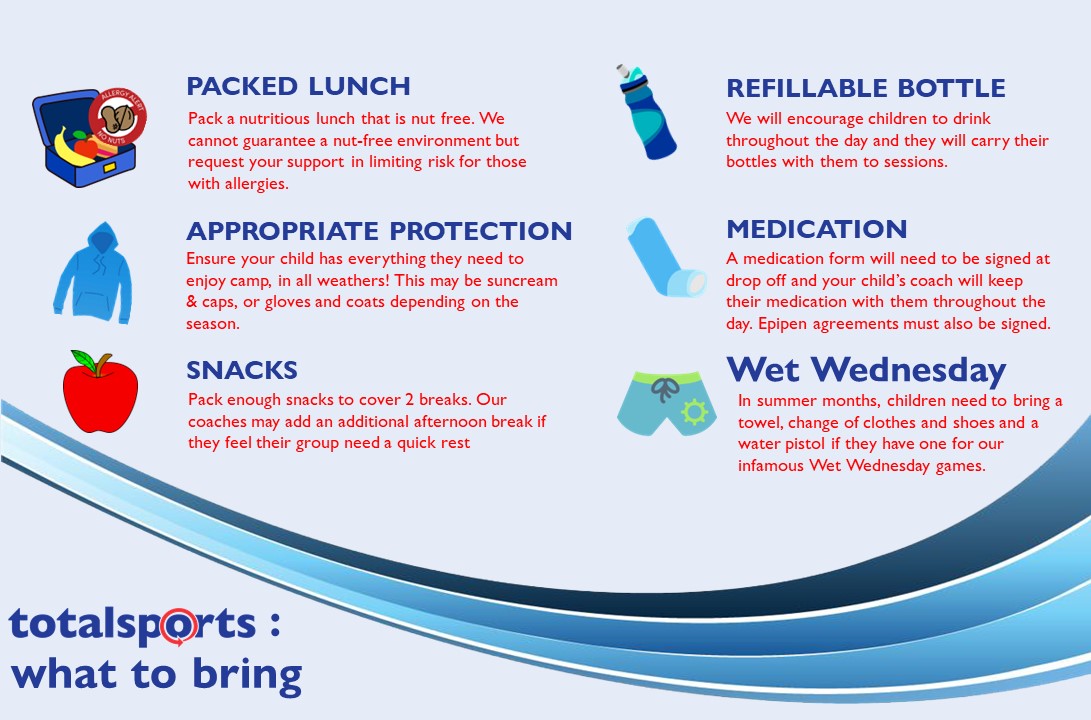 Please make sure your child has all of the above
for each day of camp. Sometimes we will ask children
to bring something additional for a theme,
but we will inform parents of this in the weekly bulletin email.
OUR STAFF TEAM
Our staff are all DBS checked and have undertaken compulsory
training with Total Sports, including Safeguarding & Prevent courses.
There is a member of our permanent teaching team at all
camps and we have a First Aider on site at all times.
Our team know how to meet the needs of all children, regardless of
age or ability due to their extensive experience.
They know how to have fun themselves too!
THE EXTRA MILE
Our teams will always go the extra mile to
ensure your child has the best time on camp. Whether that
is designing activities to meet a certain interest such as
Quidditch for Harry Potter fans, or Forest Schools,
our staff get to know each child and plan a child centric programme.
A warm welcome is waiting for everyone and
children get involved in activities straight away
to ensure they settle in quickly. A courtesy call to a parent,
a birthday cake or staff allowing children to turn
them into slime monsters are all par for the course on our camps!
OFFERS
Periodically, we offer exciting discounts at our clubs to mark special occasions or launch new venues. Any live discount will be shown above. Codes cannot be applied retrospectively, so please do check here regularly to ensure you have the correct code at the point of booking online. Click the Recommend a Friend tab above for more details.
Can't speak more highly of this holiday club. My son loves it, lots of activities, great venue and staff highly recommend. We will be using again for future holidays.
After 3 weeks of holiday clubs, our little one has enjoyed the first night of Football Academy, he is learning so much and will only get better with the skills shared from all involved.
My little boy really enjoyed Total Sports this summer. I would have no hesitation in using you again.
This is the best thing to come out of this summer, I was a bit doubious about it at first wondering if my son would enjoy it but he absolutely loved it. So much that he wanted to go back again and again. Staff brilliant, we will be coming back again in the next holidays.
Great sport teachers. They are fab while teaching PE in schools and fab at running the holiday club. I don't even need childcare throughout the holiday but have paid for it several times as my son just loves attending. All the staff are very friendly and brilliant with the kids.