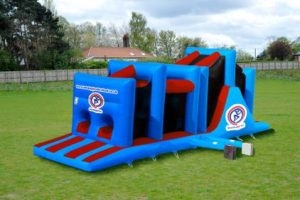 'The Beast'
An awesome 40 foot inflatable assault course! It's great fun and super popular. 2 tunnels, plenty of obstacles, a high ladder and a slide to finish. It's fantastic aerobic exercise (while also being great fun)! It can be used indoors and outdoors, so it's perfect for all weather conditions. Suitable for school years 1 – 6.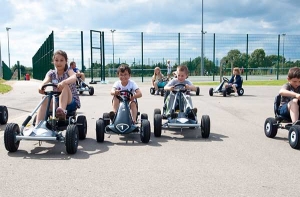 'Go Karts'
Brilliant exercise as the children really have to pedal away. We can set up a fantastic rally track for the kids outside, and they often push each other along (which is also great exercise)! The children will be exhausted after an hour of pedalling, pushing, fastest laps and rally courses! These have to be used outside, so they're better for warmer dryer days and are perfect for school years 1 – 4 (due to the size of the go karts).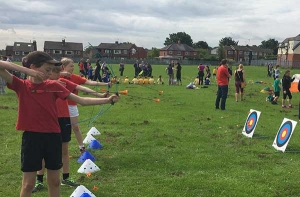 'Archery'
It's great for children to learn a new spoer that is based on skill (while also being super safe)! Targets, bows and arrows (age appropriate with specialised sucker ends)! A great introduction to a skills based sport and to learn something new! These can be used indoors and outdoors (in the right weather) and are perfect for anyone from year 1 upwards.