Football Tots
for children Ages 2 years old upwards

PRE-SCHOOL FOOTBALL SESSIONS
Total Sports brings you "Football Tots" Amazing football based Activities for Energetic Tots.
As footballtots, every child loves to learn new skills. Our sessions are filled with fun games and activities designed to maximize learning development.
Children attending our sessions learn football skills from passing and dribbling, to stepovers and throw-ins!
The football tots programme also helps to develop a number of key skills to give every football tot a fantastic head start before starting school.
The programme is structured according to the different ages and stages of a child's development.
Each session is delivered using specialist equipment by qualified staff, trained to ensure everyone has great fun!
VENUES.  DAYS.  TIMES.
Starting Week beginning Monday 19th April.  Block 1 is 6 weeks
MONDAY'S
Venue – The Poppleton Centre Main St, Upper Poppleton YO26 6JT
Time – 9.30-10.10am  Age 2 – 3.5 year olds
Time – 10.20-10.50am  Age 3.5-4 year olds
Cost – £6.50 per session / £39 for the six week block
Please note :
The cost is £6.50 per session.  However you do have to book the half term block.  We do not accept individual sessions.
If football isn't for you we also run multi-skills 'Energy Tots' sessions on Tuesday's, Thursday's, Saturday's and Sunday's at various venues across York further details can be found using the following link – ENERGY TOTS ! Classes for 2-7 Year Olds – Total Sports Limited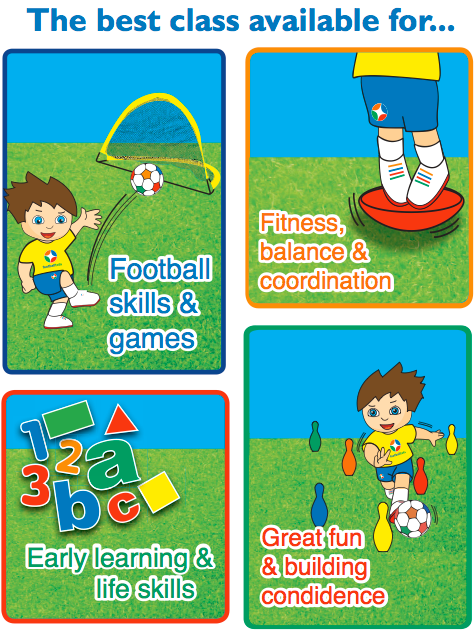 Frequently Asked Questions
Unfortunately we do not offer taster sessions, however if the course isn't for your child, we will offer you a refund for the remaining sessions of the first block they attended.
How to claim – Just contact us within 24 hours of your last session and we will refund you.
For our 2 – 3.5 year olds, the session lasts 30 minutes.
For our 3.5 – 5 year olds, the session lasts 40 minutes
For our 5-7 year olds, the session lasts 45 minutes.
We advise you bring refreshments for your child, especially a drink for during and after the session.
We advise your children wear the clothes and footwear they feel most comfortable and confident in.
Parent participation is important in the youngest age group, however, it is not normally necessary for the 3.5-5 years and 5-7 years classes.
Masks should be worn by parents/Guardian's while in our indoor sessions. We will adapt our rules as a when government guidance allows.