Total Sports Football Academy
IN

PARTNERSHIP

WITH YORK SCHOOL BOYS FOOTBALL ASSOCIATION

It's time to think different.  It's time for the
"Total Sports Football Academy"
Starting THIS SEPTEMBER at PLAY FOOTBALL / ROKO – York
Total Sports Football Academy (TSFA) is the only official partner of York & District School Boys.  They believe Total Sports are the way forward to develop Elite Football talent in York over the next ten years.  Our coaches and staff work with children every day in schools as we teach PE and Sport to many children throughout the city every week.  We have been running football camps for over ten years.  
What is the pathway to the top?
We have an amazing pathway for our super footballers that links TSFA to The York & District School Boys Football Association, an amazing Scouting system from professional clubs and a chance to show case and develop your talent.  It starts from playing for your school, to being selected for trials at York School Boys (starts in Year 6) and then being watched by professional clubs who go to the school boys matches – as that is where the considered best players in each city are playing one another.  Total Sports Football Academy runs alongside this to bring many of York & Districts most talented players together to train on a weekly basis.
Why are you starting Elite & Gifted from U7's when they do not have an U7's-U10's York School Boys Team?
After consultation with York & District School Boys we agreed that starting younger and bringing these gifted players together gave them the best chance to excel and develop.  The TSFA Elite & Gifted is through invite only.  We aim to bring gifted players together.  Total Sports aims to give it their all in our coaching and opportunities to be seen beyond our academy.  Professional Clubs who are watching U11's will be invited to our Gifted and Talented sessions for our younger age groups.
Do I have to attend TSFA to play for York & District School Boys in the future?
Absolutely not.  That is based upon trials and is completely based upon merit at those trials.  We do feel that bringing the best players together and through working in partnership with York School Boys that being part of the TSFA Gifted squad gives you the best foundation, as you are working with young players who are at a similarly gifted level.
What are the Total Sports Football Academy Talent Centres ?
This is Friday nights and is about improving your game through playing small sided games, challenges and drills, through 1v1's, 2v2's, 3v'3 and mini games.  It's about enjoying your football and is chance to be seen too and considered for the Elite & Gifted Squad.  It is open to all players. So if you play on a weekend or want to get involved or just miss out on the Talented and Gifted then come along.
You do not have to book blocks – you can book each week.  But spaces are limited.
There is a Girls Talent Centre specifically on a Wednesday night 5pm-6pm.
How does a Elite & Gifted fit into Total Sports ethos?
Anyone that knows Total Sports know we have and always will be about 'bringing out the best in children' no matter what.  This will never change and we do this through so many of our lessons, after school clubs, holiday clubs and weekend clubs.
We do feel is is fair that we also give the opportunity to those that excel too.
The Academy's aim is to "bring out the best in gifted young footballers" and give them the chance to demonstrate their talent where possible and send them on to the next level.
Limited to 20 spaces per group
Time left to book
Total Sports Football Academy
ELITE & GIFTED SQUADS  (EGS) U7's – U11's
If you would like to join the Total Sports FA – Elite & Gifted Squad you can book online.
Up to Christmas you can book INDIVIDUAL WEEKS. We would like you to come along if you feel it is the right level for you. Unlike a lot of trials there is no pressure. Coming for several weeks allows you to enjoy the experience too. Often at a trials you may feel a little worried and only have a small amount of time during a match scenario to show your ability. TSFA is different as you can come as often or as little as you like up to Christmas.
After Christmas the Elite & Gifted squads will be selective and have a maximum of 20 places.
This is a very specific club and we want to be very clear from the beginning of its aims – to bring a talented group of players together with a chance to shine.
Please do feel free to book in for the correct age range which start Monday 18th September at Play Football (Roko). But you can book in any weeks if they are available.
The end aim : is to develop a squad to progress and develop within the York School Boys team in years to come.
Please be clear : York School Boys ultimately only pick their teams based upon merit, not which academy you attend.
After Christmas the 20 spaces will be based upon selection to attend going forwards.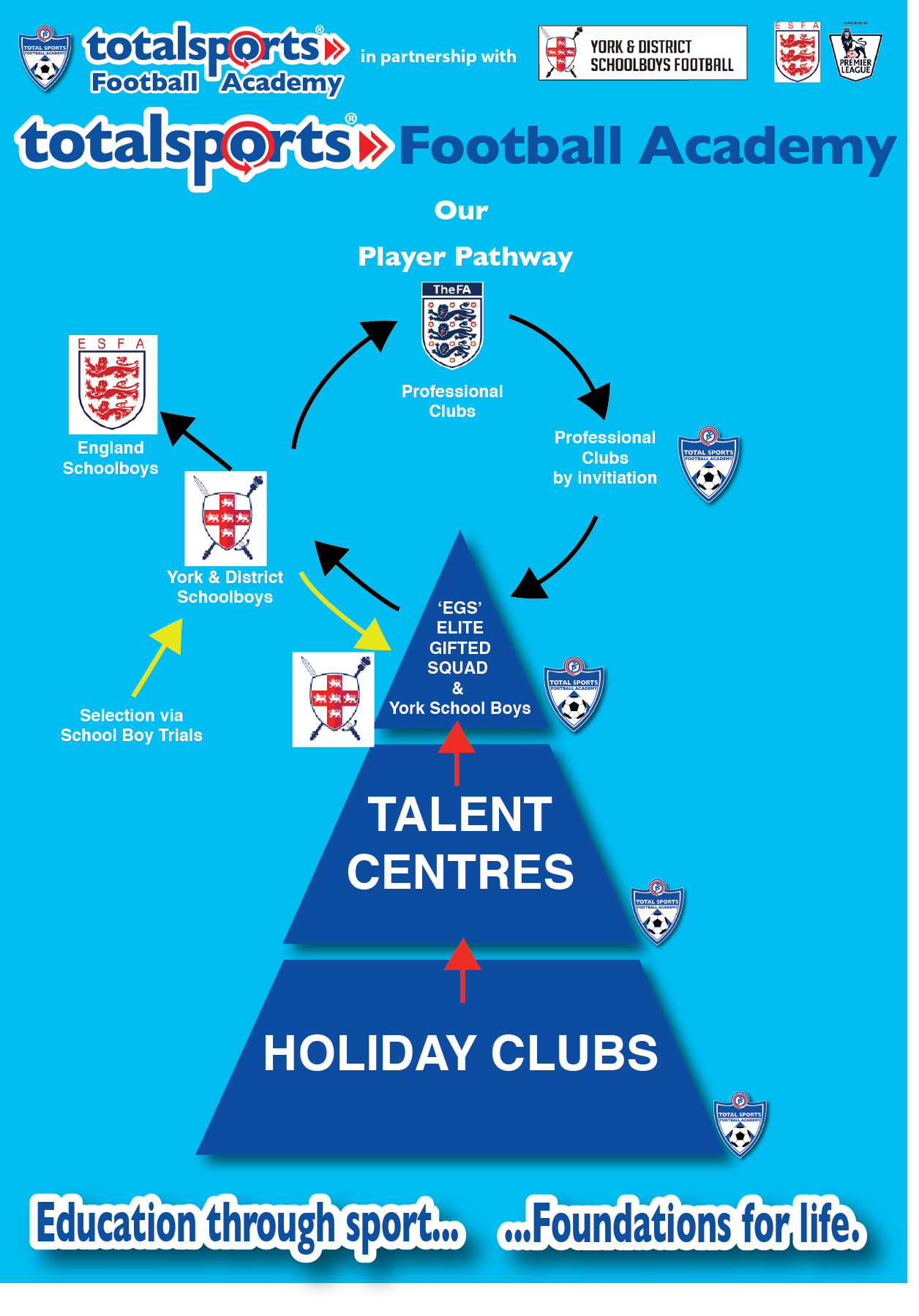 Total Sports Football Academy
TALENT CENTRES (Friday's)
TSFA Talent Centres are going to be very popular and is aimed at grassroots players who play for their local team.  
The emphasis is on development with a bigemphasis on bringing a lot of fun to football.  
Players will be developing through  1v1's 2v2's 3v3's and small sided games.  
We will always be watching to see who would potentially step up into the Elite & Gifted Squads
Pre booking is only required one week at a time.  But spaces are limited so do book early for the following week.