Energy Tots
for children Ages 2 years old upwards
PRE-SCHOOL ENERGY TOTS
Total Sports brings you "Energy Tots" Amazing Activities for Energetic Tots.
Energy Tots Programme is designed to develop life long skills for children aged 2 to 6 through all elements of your child's early development and beyond.
Up to the age of 7, children are the perfect learning sponge – they just need a positive, safe environment and plenty of practice!
Having the opportunity to try lots of skills will give each child the chance to learn skills they can transfer across all sports.  Just as important, each child will learn new skills in social interaction, emotional control and cognitive development.
Your child can build there Super Powers through their journey
A chance to grow the fundamentals through THE POWER OF 10!
LEARN…..
10 SUPER SPORTS 
10 SUPER POWERS       
10 SUPER SKILLS   
10 SUPER FOODS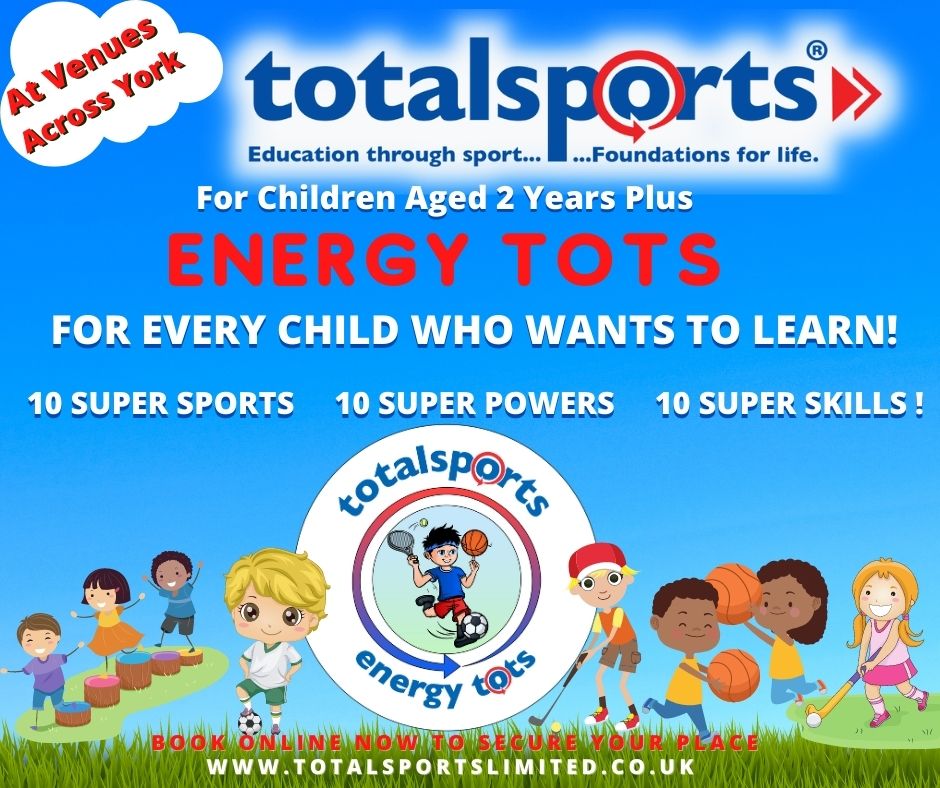 VENUES.  DAYS.  TIMES.
Starting Week beginning Monday 19th April.  Block 1 is 6 weeks
TUESDAY'S
Venue – The Poppleton Centre Main St, Upper Poppleton YO26 6JT
Time – 9.30-10.10am  Age 3.5 – 4 year olds
Time – 10.20-10.50am  Age 2 – 3.5 year olds
Cost – £6.50 per session / £39 for the six week block
THURSDAY'S
Venue – Wigginton Grasshoppers (John Jeffery Community Pavillion) Mill Lane, Wigginton, York, YO32 2PY
Time – 1.05pm – 1.35pm  Age 2 – 3.5 year olds
Time – 1.45pm – 2.15pm  Age 2 – 3.5 year olds
Time – 2.25pm – 3.05pm  Age 3.5-4 year olds
Cost – £6.50 per session / £39 for the six week block
SUNDAY'S
Venue – The Poppleton Centre Main St, Upper Poppleton YO26 6JT
Time – 9:00-9:30am  Age 2 – 3.5 year olds
Time – 9:40-10:20am  Age 3.5-4 year olds
    Time – 10.30am – 11:15am  Age 5-7 year olds
Time – 11.25am – 11.55am  Age 2 – 3.5 year olds
Cost – £6.50 per session / £39 for the six week block
Please note :
If multi-skills isn't for you we also run Football Sessions for pre school aged children on Monday Mornings at The Poppleton Centre further details can be found using the following link – Total Sports Football Tots – Total Sports Limited
Frequently Asked Questions
[select-faq faq_id='15004′] [select-faq faq_id='15016′] [select-faq faq_id='15008′] [select-faq faq_id='15009′] [select-faq faq_id='15010′] [select-faq faq_id='15011′] [select-faq faq_id='15012′]
Frequently Asked Questions
[select-faq faq_id='15004′] [select-faq faq_id='15016′] [select-faq faq_id='15008′] [select-faq faq_id='15009′] [select-faq faq_id='15010′] [select-faq faq_id='15011′] [select-faq faq_id='15012′]