Looking for something exciting for your children this Christmas?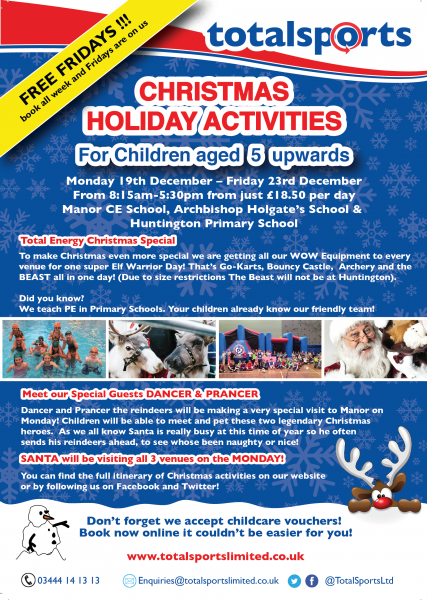 We will be running our Christmas Holiday Camps from Monday 19th December to Friday 23rd December at 3 venues across York from 8:15-5:30pm
Manor CE School
Archbishop Holgate's Secondary School
Huntington Primary School
Meet our VERY special guests Dancer and Prancer at Total Energy!!
Dancer and Prancer the reindeer's will be making a very special visit to Manor on Monday 19th December! Children will be able to meet and pet these two legendary Christmas heroes. As we all know Santa is really busy at this time of the year so he often sends his reindeer's ahead, to see who has been naughty or nice! We are expecting this to be a really popular day and places are limited so make sure to book HERE early to be able meet Santa's reindeer this Christmas.
On top of all our fun sports and games we've got a fantastic week of Christmas themed activities in store at our Total Energy Camps, with the Santa License day where children will work through Christmas challenges to work their way up from elves, to reindeer's to fully licensed SANTA'S! We've also planned for all our WOW Equipment to go to EVERY VENUE for our Elf Warrior Day, as well as an extra special visit on the Monday to all camps from Santa himself!
Manor
Huntington
Archbishop
Monday
Prancer and Dancer
reindeer visit AND Santa Visit
Santa Visit
Santa Visit
Tuesday
Christmas Party Day
Elf Warrior Day
Santa License Day
Wednesday
Santa License Day
Christmas Party Day
Elf Warrior Day
Thursday
Elf Warrior Day
Santa License Day
Christmas Party Day
Friday
Total Talent Show
Total Talent Show
Total Talent Show
Football Development Camps – Introducing our very first FIFA 17 Tournament!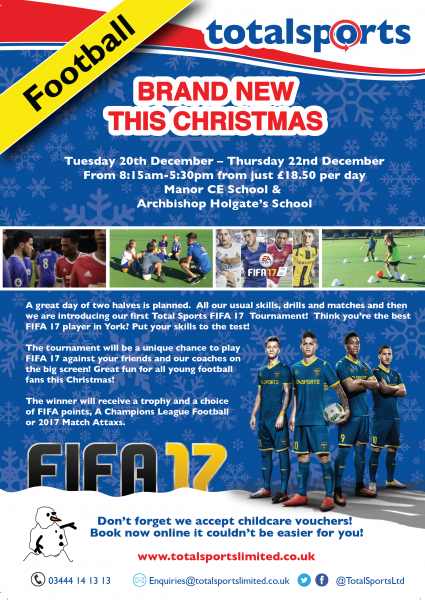 Our football camps will be running at Manor CE School and Archbishop Holgate's Secondary School from Tuesday 20th December – Thursday 22nd December
As a special Christmas bonus we are making our Football Development Camps even better! We've created a great day of two halves, with half the day focusing on playing football matches and taking on mini skills challenges. Then the second half of the day will be our very first Total Sports FIFA 17 Tournament! The chance to prove you are the best FIFA player in York and win lots of fantastic prizes including FIFA points for Ultimate Team, Match Attaxs and a Champions League Football!
Our Christmas Holiday Camps are perfect days for if you cannot get the time off work or still need a little bit of time to finish off the Christmas shopping if you leave it all until the week before! We've got you covered BUT spaces are limited so please make sure to BOOK NOW to secure a place for this fantastic week!
PS – There will be no evening extended hours on Friday 23rd December – All camps will finish at 4:00pm on this day!